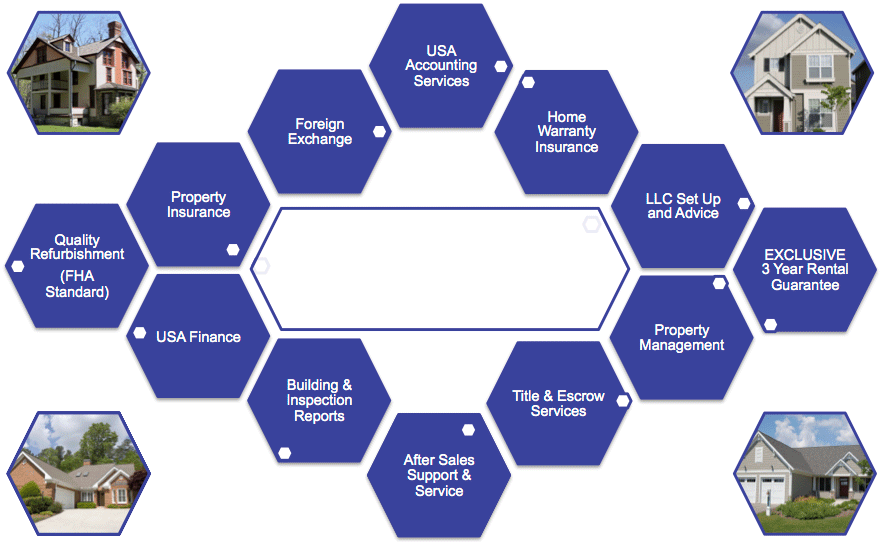 ---
Property Management
The return on investment property is closely tied to its management. Receiving a steady income stream is imperative, so Knightsbridge has spent substantial time and effort finding property managers capable of reflecting the quality of our properties.  Furthermore, we have developed an excellent working relationship with each property manager to help ensure that every investor enjoys the best possible service.
All property managers associated with Knightsbridge are equipped to meet the needs and expectations of investors, both domestic and foreign. They can issue all vendor and third party payments, quickly resolve any tenant issues or requests, coordinate repairs, and provide regular reporting. If and when a vacancy occurs, properties are professionally marketed and tenants are qualified through a stringent screening process.  The full range of services include:
Applicant Processing and Credential Checking
Lease Execution
24/7 Tenant Communication
Vendor Payment (and 3rd party payments, i.e. property taxes)
Owner Payments paid into your U.S. Bank Account
Property Advertising
Property Showings
24 Hrs access to own account
Managing services, i.e. plumbers, electricians, hand man etc
Title and Escrow
Buying a property in the USA is a very easy process once you know how it all works!
After the buyer and seller have entered into a Purchase Contract, the Seller will send the contract to the Title & Escrow Company (in most cases the same company). The Title Company's primary responsibility is to conduct searches on the current ownership of the property, ensuring there are no liens or encumbrances that would restrict the clean transfer of title. The searches also show the pro rata tax due on the property at the time of closing.
Once the Title Company has examined the searches and is satisfied, it will issue "Title Insurance" to the investor. Title insurance is an indemnity against financial loss from defects in title to real property and from the invalidity or unenforceability of mortgage liens. It is purchased by a one-time premium payment and is shown on the HUD-1 Settlement Statement.
The Escrow Company is an independent trusted third-party that receives and disburses money and/or documents for two or more transacting parties within the timing agreed between the parties. Once the Title Company has conducted the title searches and advised that it will be providing Title Insurance (through a commitment letter), the Escrow Company or Agent will produce the closing documents required to be signed by both parties in order to close the transaction.
The benefit in the USA is that the HUD-1 Settlement Statements are all uniform and identical in format for each property. The HUD-1 is a very transparent document which identifies how all funds will be disbursed at closing.
Knightsbridge has partnered with one of the largest and most respected Title & Escrow companies in the USA, which provides services in all 50 States.
Property Insurance
Property insurance, also commonly called hazard insurance, is an insurance policy that combines i) loss and damage to the property; as well as, ii) liability insurance for accidents that may happen at the home or at the hands of the homeowner within the policy territory.
Knightsbridge has teamed up with a large U.S. insurer to provide investors with one of the most inexpensive and best insurance coverage available.
Home Warranty Insurance
Home Warranty Insurance (HWI) insures a buyer against defects (usually in plumbing, heating or electrical) in the acquired home. This insurance is especially useful to overseas and out-of-state investors, because if anything requires immediate attention, the Property Manager can simply call the HWI Provider and a maintenance person will attend to the issue within 24 hours.  Enjoying extra peace of mind, an investor may not even learn of the issue.
Our HWI provider is a national provider and is extremely responsive.
U.S. Bank Accounts
We recommend setting up a U.S. bank account to allow property manager to pay rental income direct to your account.
U.S. Tax Accounting
Any person or entity receiving income generated within the USA must submit a tax return, which requires either a Social Security Number, EIN Number (for LLC's) or ITIN number (for not residents).
Knightsbridge can recommend a U.S. accountant specializing in non-resident tax returns and has over 15 years experience serving foreign nationals from 60 different countries. The U.S. tax accountant can assist with all U.S. tax requirements, including obtaining an ITIN or EIN number, filing returns and advising on investment structure.
LLC Establishment
After discussing your personal circumstances with your U.S. tax accountant, you may decide that you would like to hold your US property investment within an LLC. A USA tax accountant can also assist with the establishment of your U.S. LLC and can incorporate that within a week in the most tax effective state for your investment.
U.S. Financing
Financing your investment is a great way to maximise your purchasing ability. We have several finance options available for U.S. Residents through local financial institutions.
Obtaining finance for Foreign Nationals is very difficult at the moment given the strict lending requirements of most US financial institutions. However, from time to time we have financing available to foreign nationals for particular properties. Please enquire at the time of making your investment.